2023/08/16
Leading the Embroidery Industry – Tajima Industries Ltd.
Technology
With their outstanding development and planning capabilities for high-quality embroidery technology, Tajima Industries Ltd. has been meeting the demands of luxury brands worldwide. While maintaining high quality, they have also addressed challenges in the apparel industry such as mass production and disposal, actively leading the industry towards a sustainable world. Going beyond the apparel field, they have applied their sewing technology to industries such as automotive and welfare equipment, actively engaging in research on new technologies for a better society.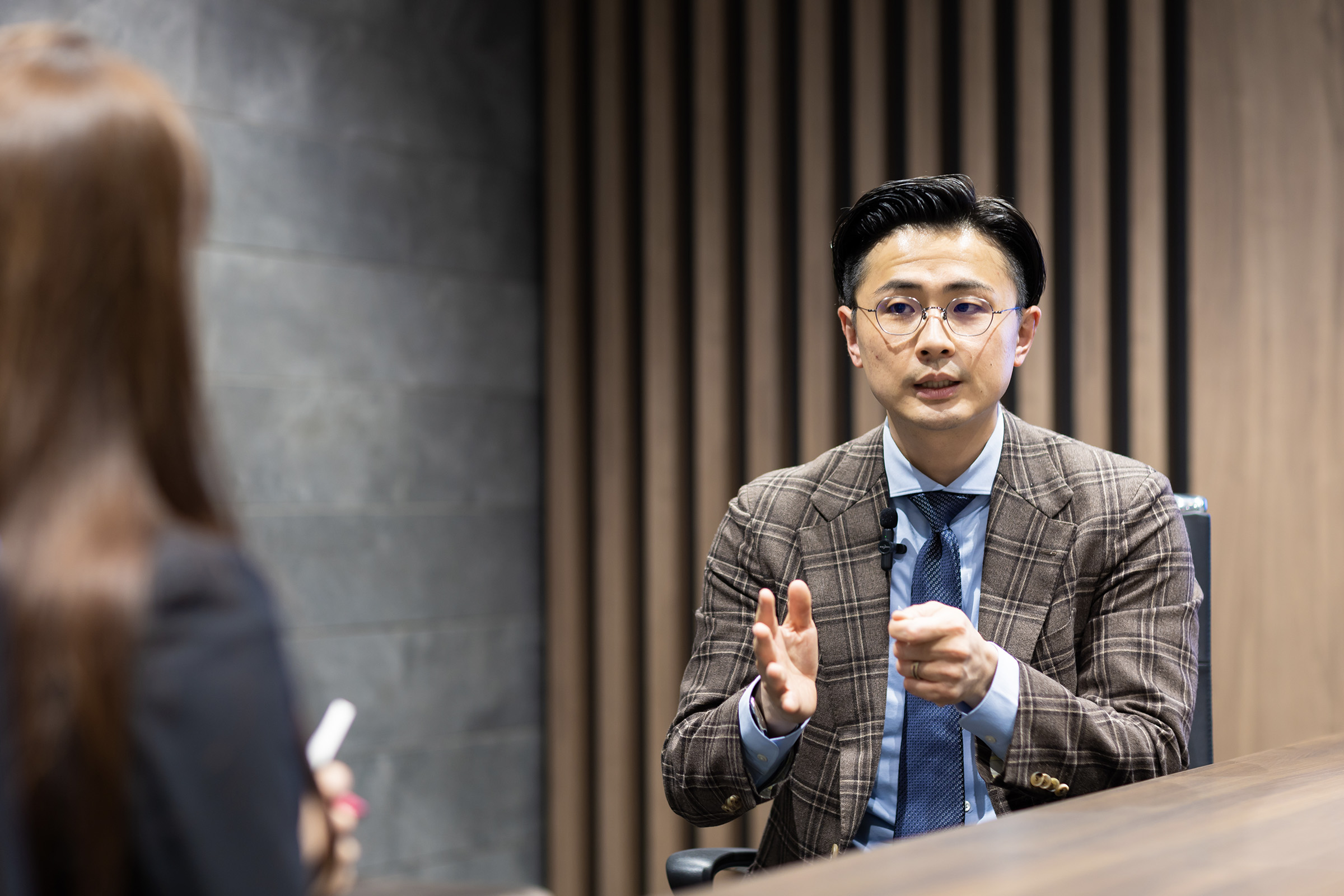 Representative Director of Tajima Group
Hidetoshi Kojima
Since its establishment in 1944, Tajima has built trust with customers through high-level technology and meticulous service, delivering over 3,000 types of embroidery machines to more than 130 countries and regions worldwide. They are also involved in the production of luxury brands worldwide.
---
Tajima's Strengths Leading the Embroidery Industry
You have been a top embroidery machine manufacturer for 79 years and have consistently met the high demands for quality embroidery from luxury brands worldwide. Could you please tell us more about your strengths?
We believe it lies in our product planning and development capabilities. This is a philosophy that my grandfather, who led our company's second founding, cherished. He visited customers directly, understood their challenges, and worked to find solutions. We apply creative thinking to address the challenges we hear through these customer interactions, turning the impossible into possible. I believe this product planning and development capability forms the foundation of Tajima's strengths.
Additionally, we have earned the long-standing support of many customers because we place importance on contributing to customer satisfaction and success, alongside our product planning and development. Embroidery machines are not just sold; they require support throughout their usage. Some customers encounter technical difficulties while using embroidery machines. For example, when a brand requests a certain design for a job, it may not be completely reproducible using the embroidery machine. However, giving up on such requests can become a life-or-death issue for our embroidery business customers. Tajima has earned the trust of customers by promptly and wholeheartedly addressing such issues together with more than 60 distributors worldwide.
Our strengths lie in our ability to create products that customers love, the development power to realize them, and the support power to keep customers satisfied after purchase.
We have always felt the willingness and dedication to make our aspirations come true, the supportive attitude that embraces and accompanies us throughout our meetings. The emphasis on a support system, where it's not just about making a sale and ending there, is highly appreciated by us as customers.
---
Successful Automation of Upper Thread Tension Adjustment in Embroidery Machine Operation. Bringing Embroidery Closer to You.
Could you explain the difference and advantages of i-TM compared to conventional embroidery machines?
Let me explain the mechanism of machine embroidery first. In machine embroidery, the upper thread passed through the needle penetrates the fabric and forms a loop when it rises, interlocking with the bobbin thread to create stitches. The way the thread intertwines changes depending on how firmly the upper thread is held during this process. To achieve the optimal adjustment of the upper thread according to the desired design, experience is required, as humidity and temperature also have an impact. It is difficult for those who have recently purchased an embroidery machine to intuitively adjust the tension properly. As a result, there may be variations in the quality of embroidery or cases where the desired design cannot be reproduced. Additionally, it takes time to train embroidery operators, and the shortage of operators is a future challenge for the embroidery industry.As Tajima, a leading company in the embroidery machine field, we felt the need to address these industry challenges and developed the AI-equipped embroidery machine "i-TM." The i-TM calculates the optimal amount of tension based on the punching data and automatically supplies the thread to the machine, eliminating the need to adjust the tension manually and eliminating the need for specialized knowledge. This technology enables easier and stable production of high-quality embroidery.
For instance, many companies are supported by foreign technical trainees, but these trainees are replaced periodically. This means that each time they change, several months of training are required. By introducing our i-TM, the training period is reduced, leading to more efficiency. We have received feedback saying, "It is a tremendous help."
In cases where companies want to introduce embroidery but cannot due to a shortage of personnel, the barrier to embroidery for those companies has been lowered. 
The ability to master the technique in a short period also benefits trainees who want to acquire skills.
---
Sewing While Dyeing a Single Thread: A Sustainable and Innovative Approach for Dyeing Only What is Needed.
You have impressed us with the innovative technique of embroidering while dyeing a single thread, enabling sustainable dyeing and reducing environmental impact.
The apparel industry has been a significant issue due to mass production and consumption. Especially for ornate decorations like embroidery, a wide range of threads is required, and this means preparing the corresponding threads. However, the dyeing process also presents challenges in terms of wastewater management.
By using this technology, the machine supplies the dyed thread to the embroidery machine while sewing, which means only white threads need to be prepared, allowing for embroidery in various colors. The technology realizes "producing and dyeing threads as needed" to reduce waste and excessive production, contributing to a sustainable world.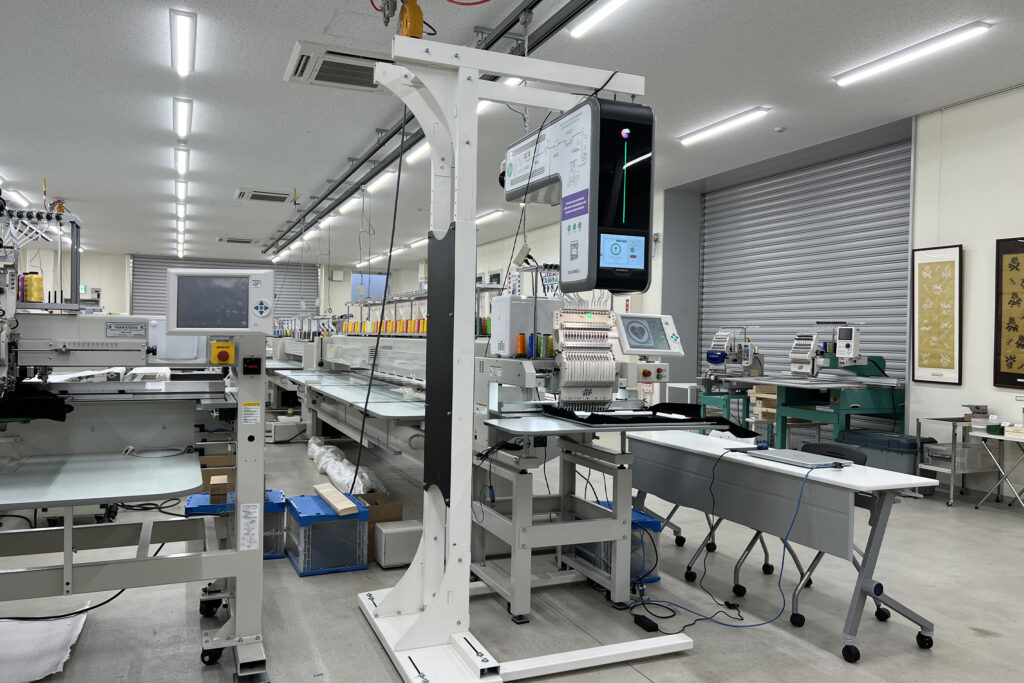 When I heard about this unique technology, I was determined to use it for our brand, which places a strong emphasis on reducing environmental impact. Is this technology well-suited for creating gradients?
Expressing gradients on embroidery machines has been extremely challenging in the past. However, by dyeing the threads while sewing, it becomes relatively easy to achieve gradients. I believe this aligns perfectly with CLASS EARTH's theme of "nature," as it allows us to express nature through embroidery.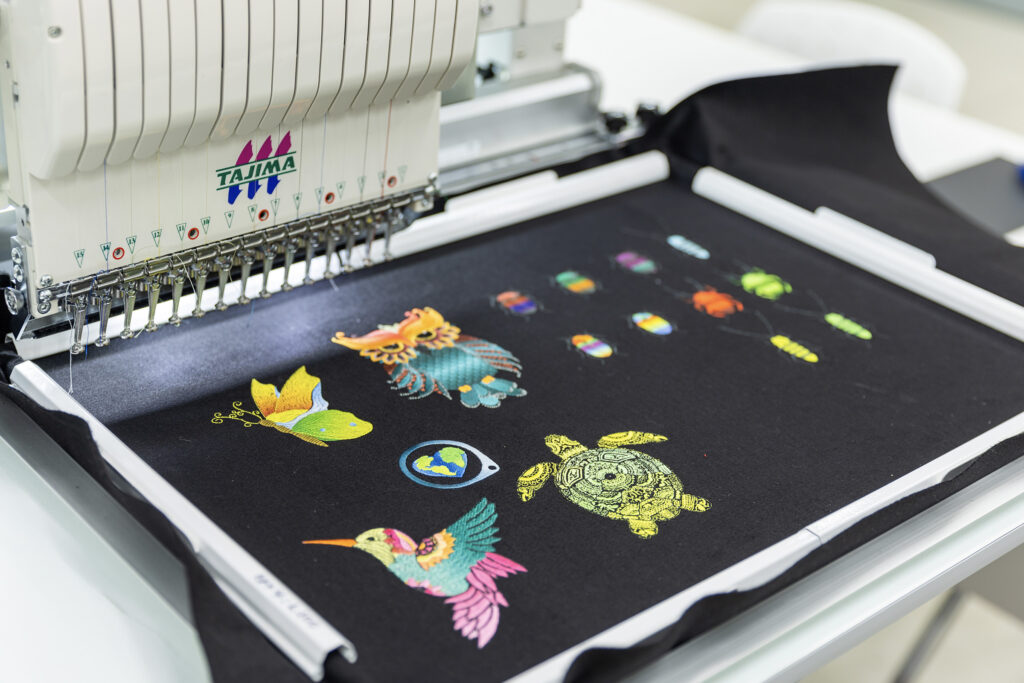 ---
Sustainable Initiatives for a Better World
Could you share with us your thoughts on the importance of a sustainable world in the context of Tajima's future development?
We are engaged in various efforts, including job creation and the reutilization of embroidery in welfare and care services. We apply embroidery technology to develop sensor-equipped care products that sew conductive threads, contributing to society. We have established an advanced technology team, dedicating our daily efforts to research.
Regarding my mission as a successor, we must ensure that the company continues to exist even a hundred or two hundred years from now. This involves creating businesses, activities, and organizations that are socially required, recognized, and continue to contribute to society. In this sense, we want to address society's current issues and demands related to the earth to the fullest extent possible.
Being a globally expanding company, are there any social issues where your company can exert influence?
We believe that by utilizing our embroidery machines, we can contribute to taking a step towards solving environmental issues caused by mass production and consumption. In the past, mass production was centered in Asia due to lower labor costs, but there is now a trend of production returning to advanced countries. This shift is driven not only by political factors such as fragmented supply chains but also by the question of how long we can continue with the model of mass production and consumption.
Leveraging our global network, we hope to support brands in maintaining their quality while transitioning to production closer to the consumer, thereby reducing mass production and consumption.
---
The Future of the Embroidery Machine Industry According to the World's Top Manufacturer
As a company with a global presence, are there any countries where you believe the embroidery market is likely to expand further?
India is known for its active embroidery culture. If factories in countries with such embroidery cultures can effectively incorporate mechanization, they may have the potential to develop into even larger businesses.
It is important to create employment in the country's areas of expertise. India has the highest number of children in the world but is said to have a low percentage of children receiving adequate education. Increasing proper employment also leads to creating an environment for children to receive education, making it a meaningful endeavor.
You are right; there is potential for contributing in many ways. However, I also feel that in the current situation, embroidery may not be reaching the demand in many countries, including India. The problem stems from difficulties in handling embroidery machines and complexities in ordering and receiving embroidery. Nonetheless, we believe these are issues that can be improved with our technology. In the medium to long term, we want to expand the scope of embroidery while tackling technical challenges.
---
Impression of CLASS EARTH
Finally, could you share your impression of CLASS EARTH?
Brands that are deeply committed to and working towards a sustainable earth should be extraordinary, yet at present, they are still rare. To achieve a sustainable society, we believe it is necessary to "educate" people to protect the earth, build a society, "solve social issues" through technology, and nurture a "culture" that creates a rich future while passing it on. CLASS EARTH's passion and drive for "education" and "culture" and Tajima Group's technology and "culture" resonate together and have the potential to change the current ways of production and consumption, leading to a society that protects the earth. We hope that this partnership will contribute to that goal.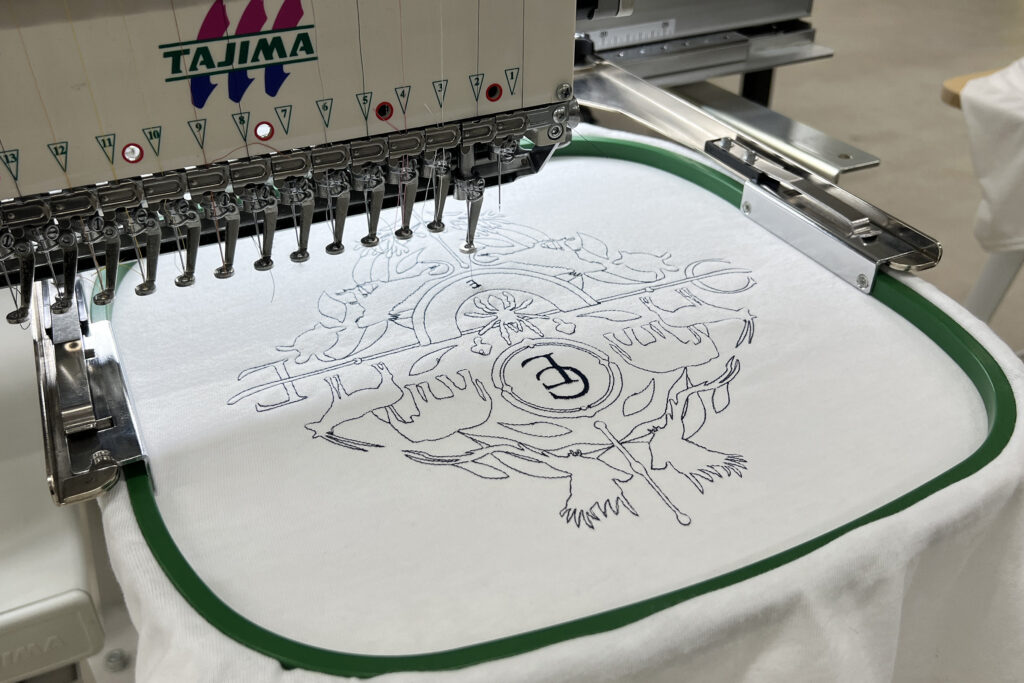 Tajima Industries Ltd.
https://www.tajima.com/jp/