2023/05/23
Connecting Environmental and Ecological Conservation to Business Biome, Inc.
Technology
We, consumers, can contribute to biodiversity conservation while having fun.
Biome Inc. is working to accelerate biodiversity conservation in cooperation with businesses and governments based on one of the largest biological information databases in Japan, which it has developed.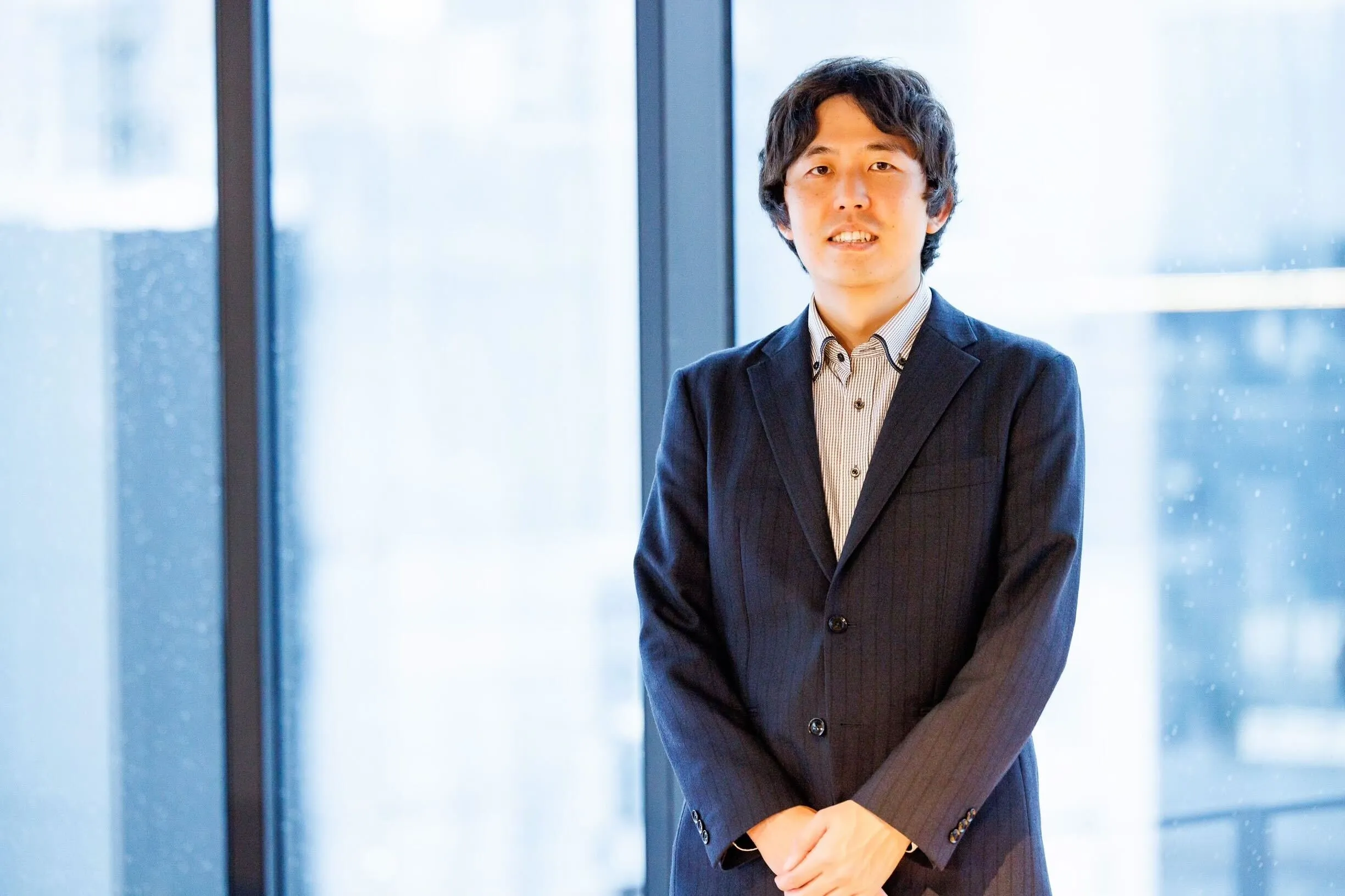 Representative Director and CEO of Biome, Inc.
Shogoro Fujiki
Born in Osaka in 1988. Acquired a Doctoral Degree of agriculture from Kyoto University.
Specialized in location information systems and image analysis technology. During his university years, he spent more than two years camping and conducting research on the island of Borneo in Southeast Asia, and developed a biodiversity visualization technology using satellite image analysis. Established in May of 2017, he had a vision for his company with the focus of counteracting "taking biodiversity conservation for granted in society." He developed and operated "Biome," a living creature collection application, as well as various other businesses specializing in "biodiversity information." Due to his contributions and hard work he was selected as a "J-Startup," by the Ministry of Economy, called the "Innovators Under 35 Japan 2021," a group of innovators under 35 that are dedicated to shaping the future for the betterment of society.
---
Linking environmental and ecological conservation to business. Biodiversity conservation is a matter of course in society.
Biome is a company that specializes in the maintenance, research, and utilization of biodiversity data, which is one of the world's most precious resources. First of all, could you tell us about your company's vision, mission, and core products?
Biome is a venture company that is taking on the challenge of balancing biodiversity conservation and business.
Although the crisis is so obvious that it is estimated that 50% of living organisms will become extinct in the next 100 years, biodiversity conservation has been slow in progress.We believe that behind this lies the energy of economic activities that "profits are made by destroying the environment," and we aim to reverse this system and create a new business model in which profits are made by protecting the environment.
However, the field of biodiversity is extremely difficult to quantify, and even basic business activities such as analyzing the current situation numerically, making hypotheses, and setting targets have been difficult.
Biome's mission is to build a platform of biological information by digitizing information on living organisms in various regions, and we have created "Biome," a collection application for living organisms that allows users to take and collect photos of living organisms around them using their smartphones, of which there are over 4 billion in use worldwide.
The app includes a unique AI that determines the name of the creature, a level-up function through contributions, and a social networking function so that users can enjoy the app even if they are not familiar with the creature.
This allows users to enjoy the app as if it were a game without being conscious of environmental conservation, and before they know it, they are collecting data that will serve as the basis for biodiversity conservation.
---
Nature Positive is gaining attention in Japan
Global Trends Surrounding Biodiversity
President Fujiki also attended COP15 held last December. As a global trend surrounding biodiversity conservation, targets and frameworks such as 30 by 30, TNFD, and OECMs have been established one after another based on the Nature Positive philosophy.
Do you feel that the importance of biodiversity conservation is actually increasing compared to the past?
I think that many countries have become aware of the necessity to protect biodiversity and have had more opportunities to think about it since Nature Positive has started to be called for as an international trend.
At COP15, the Japanese government set up a splendid booth and made a big appeal of its efforts. There were many participants from Japanese companies, and I strongly sense a heightened sensitivity.
In fact, after COP15, the number of inquiries from companies and local governments, inspired by such activities, increased dramatically.
Did you feel that there is a difference in temperature between developed and developing countries, which can easily become a problem when promoting biodiversity conservation?
I have the impression that governments in developing countries are paying a lot of attention to Nature Positive. Perhaps they see it as an opportunity to take advantage of the rich biodiversity in their countries.
On the other hand, they may also be wary of the possibility of creating a mechanism that will hinder economic development.It will be difficult to make Nature Positive an initiative that involves the whole world unless a mechanism is developed to ensure that it does not conflict with the economy.
---
Contribute to biodiversity conservation while having fun!
"Biome", a living creature collection application
What kind of data exactly are you collecting through the "Biome" living creature collection application (hereafter referred to as "Biome") and to what extent?
"Biome," collects real-time information on the distribution of plants and animals, with photos, from user contributions.
The app gathers information on what kind of animals and plants were present, when, and where, with photos, on a daily basis.
Of course, from a conservation point of view, the app also makes sure that the location information of rare species is kept private and that the location cannot be identified.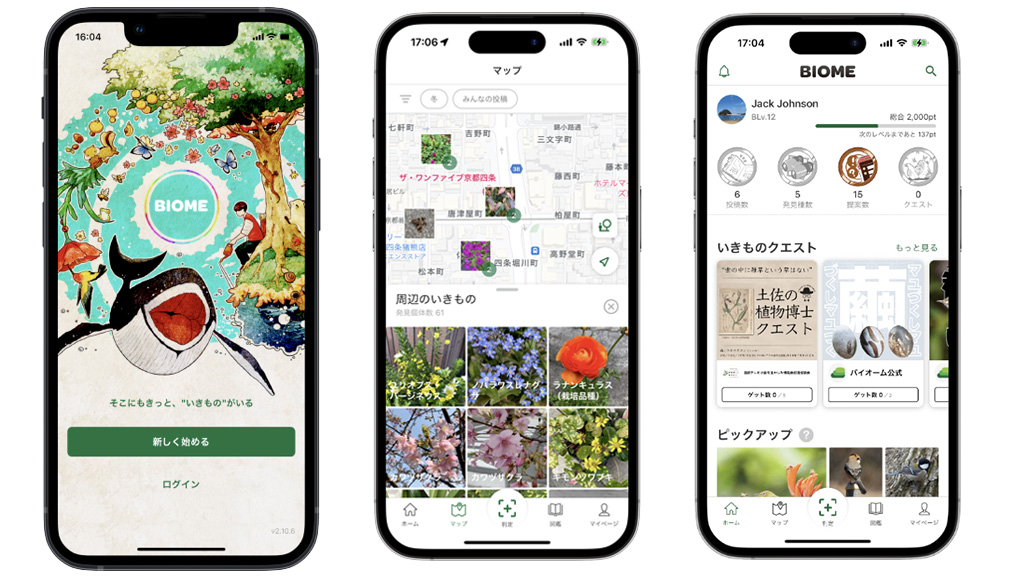 It has been three and a half years since its release as a free application that anyone can use, and it has been used by a wide range of users, including living creature lovers, children and their parents, elderly people who use it on their daily walks, and people who picked up the application because they were curious about the names of creatures they saw on a whim. The app has now been downloaded by more than 700,000 users, and we have been able to collect habitat data on more than 4.2 million organisms.
---
Japan, a biodiversity hotspot, is the only place where a wide variety of data can be gathered
We also focus on corporate support for the realization of Nature Positive. 
I believe that the vast amount of data you have collected and analyzed in Japan, a country rich in nature and biodiversity, is a treasure trove of very useful information. How do you intend to utilize this data in the future?
As you mentioned, Japan is a country with a large number of endemic and native plant species due to its topography, wide range of weather conditions, and the fact that it has not been connected to the continent for a long time, and has been selected as a biodiversity hotspot where ecosystems should be protected. We hope that Japanese businesses will be more aware of this fact in their business activities.
Currently, a large amount of real-time biological distribution data is being collected daily through the application, and we would like them to make use of this data. So far, we have provided the obtained information to research institutions as basic data, but from now on, we plan to focus on supporting business operators' TNFD and OECM initiatives through analysis and parsing of data.
We can also provide assistance in identifying priority areas for biodiversity in a project, and in creating an appropriate plan by predicting the occurrence of organisms, etc. We would like to realize Nature Positive from various angles, such as using it not only for rare species conservation but also for the control of invasive alien species. In the future, we would like to expand the range of utilization of Nature Positive in cooperation with various companies and governments, and further increase its contribution.
---
An ecosystem that changes in response to the environment
"Biome" continues to evolve with the expansion of overseas in sight
As real-time biological distribution data, we understand that updating the database is essential for ecosystems that are changing day by day in response to the environment. What plans do you have to collect more data over a wider area in the future?
"Biome" is often used by users as a game, a record of the creatures they encounter, or a life list. We would like to continue to develop the application by incorporating new features so that users can continue to enjoy contributing to the site without losing sight of the need to preserve biodiversity.
Ecosystems change in response to the environment. We plan to collect data not only from within Japan but also from around the world.
To this end, we are preparing for overseas expansion by making the app available in multiple languages and developing databases of plants and animals from overseas.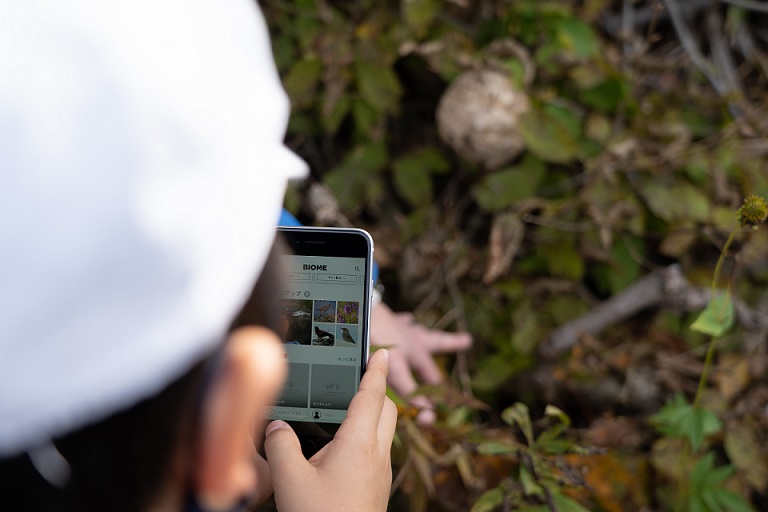 ---
The environment doesn't wait. Shopping is voting.
What actions we as consumers can take and why now is the time for us as a company to face Nature Positive.
What can we, as consumers, do now and what can we do as a company?
There are many things we can do for conservation, such as participating in the activities of organizations that protect the environment and living creatures, making donations, choosing items with donations such as CLASS EARTH, and of course posting on Biome about wildlife we encounter in our neighborhoods and on our travels.
Recently, we have been receiving a variety of inquiries from companies, and we feel that consumer purchasing behavior is particularly important. I believe that purchasing is a kind of voting, just like choosing a politician in an election.
If everyone is thoroughly committed to buying products that are good for the environment, it will lead to a healthy society in which environmentally conscious companies will be rewarded, and it would be wonderful if companies would develop environmentally friendly products all together. As consumers, we should take advantage of our right to vote.
On the other hand, companies need to be flexible enough to see Nature Positive as a business opportunity. With the global shift in consumer awareness, incorporating Nature Positive into business activities will be a clear differentiating factor, and it is possible that it will be treated like a ticket to participate in the market in the future, like carbon neutrality. 
Given the current critical state of biodiversity, it is clear that the Nature Positive trend will expand and accelerate in the future. If we rush to start initiatives only after the rules are established, we will not be able to keep up with the speed of the world, and we risk incurring large costs due to unreasonable changes in the system.
 It is important to steadily establish a system from the current stage. I believe that the time has come for us as a business to properly address the preservation of biodiversity.
For the sake of the future of the earth, Biome will continue to create services that allow the general public to engage in biodiversity conservation for a long time while having fun, and services that are tailored to business so that companies can further promote Nature Positive.
---
Impression of CLASS EARTH
I feel that there is a connection between Biome and CLASS EARTH's business in terms of "positive communication". Could you tell us about CLASS EARTH's impression?
I was particularly attracted to the fact that CLASS EARTH, as a brand, wants to make biodiversity conservation an aspirational and enjoyable activity, and I think that if people think of nature-positive initiatives as "mandatory" and troublesome, they will not be able to make good progress in the future.
Instead, it is most important to be recognized as an enjoyable, something to be proud of. I think it is wonderful that CLASS EARTH is trying to achieve this.
We also started Biome because we wanted to make ecosystem conservation a participatory activity, not just something for NPOs and volunteers. Let's continue to work together to restore biodiversity.
株式会社Biome
https://biome.co.jp/