2023/10/18
World Agricultural Heritage and the Restoration of Japan's Tea Plantations
Agriculture Biodiversity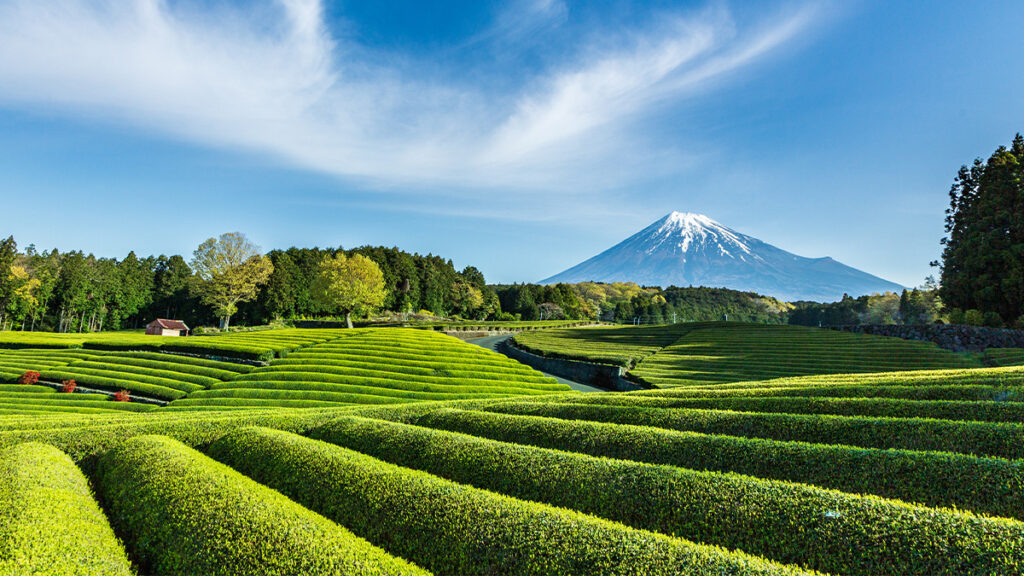 What is the World Agricultural Heritage?
Globally Important Agricultural Heritage System (GIAHS) is globally important areas of traditional agriculture, forestry, and fisheries, recognized by the Food and Agriculture Organization of the United Nations (FAO) for the protection and development of sustainable agriculture and traditional farming systems.
As of 2023, 78 regions in 24 countries around the world and 15 regions in Japan have been recognized as World Agricultural Heritage sites.
Japan has the second largest number of World Agricultural Heritage sites in the world, following China's 19 sites.
In this issue, we would like to consider Japan's World Agricultural Heritage sites.
---
<World Agricultural Heritage Areas in Japan> 
※Parentheses indicate the year of certification.
Tohoku region

Osaki area, Miyagi Prefecture "Paddy field system with skillful water management of 'Osaki arable land'" (2017)

Kanto region

Musashino area, Saitama Prefecture "Musashino's leaf composting agriculture method still alive in the suburbs of a large city" (2023)

Koto region, Yamanashi Prefecture "Fruit tree farming system adapted to the fan-shaped terrain in the Koto region" (2022)
Kakegawa area, Shizuoka Prefecture "Tea plantation farming in Shizuoka" (2013)
Shizuoka Wasabi Cultivation Area "Traditional Cultivation of Shizuoka Water Wasabi" (2017)

Hokuriku region

Satoyama on Sado Island, Niigata Prefecture: Harmonious coexistence with crested ibis (2011)

Noto area, Ishikawa Prefecture: "Satoyama Sea of Noto" (2011)

Tokai region

Ayu (sweetfish) from the clear Nagara River" in the upper and middle reaches of the Nagara River, Gifu Prefecture (2015)

Kinki region

Lake Biwa System of Fishery and Agriculture Nurtured by Forest, Village and Lake" in Lake Biwa area, Shiga Prefecture (2022)

Hyogo Prefecture, Hyogo Mikata region "Traditional Tajima cattle breeding system in Mikata region where people and cattle live together" (2023)
Minabe/Tanabe area, Wakayama Prefecture "Ume plum system in Minabe/Tanabe" (2015)

Chugoku/Shikoku regions

Nishi-Awa region, Tokushima Prefecture "Nishi-Awa Slope Farming System" (2017)

Kyushu region

Aso area, Kumamoto Prefecture "Maintenance of grassland and sustainable agriculture in Aso" (2013)

Kunisaki Peninsula, Usa area, Oita Prefecture "Agriculture, Forestry and Fisheries Cycle in Kunisaki Peninsula and Usa linked by sawtooth oak forests and reservoirs" (2013)
Takachiho Township and Mt. Shiiba area, Miyazaki Prefecture "Intermountain Agroforestry Complex System in Takachiho Township and Mt. Shiiba" (2015)
Ministry of Agriculture, Forestry and Fisheries: World Agricultural Heritage and Japan Agricultural Heritage Recognized Areas
https://www.maff.go.jp/j/nousin/kantai/giahs_3.html
---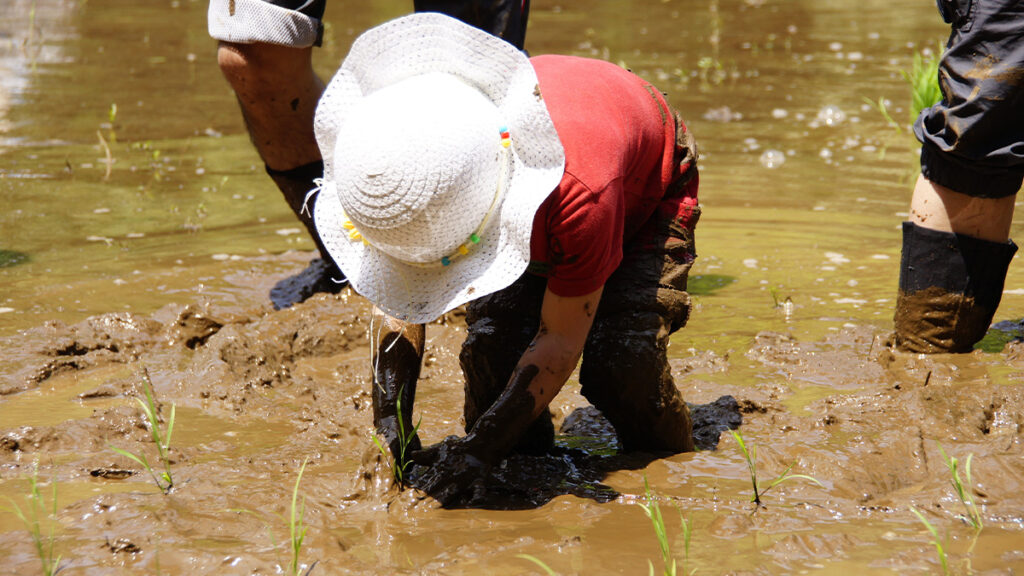 Japan's World Agricultural Heritage and its Positive Impact on Biodiversity
There are five criteria*1 for recognition by the Food and Agriculture Organization of the United Nations (FAO), and the following two points are of particular interest to us in Japan's World Agricultural Heritage.
The first is cultural value. Traditional agricultural techniques, knowledge, and culture are passed on from generation to generation.
The other is that it is linked to the preservation of ecosystems. Traditional agriculture maintains diverse ecosystems and protects biodiversity.
Japanese satoyama, which are maintained and managed by human hands, are recognized as highly valuable environments that support rich biodiversity, especially grassland flora and fauna.
At first glance, it may seem that nature is better off without human intervention, but in fact, it is known that environments that are properly managed foster greater diversity.
If left natural, trees would overgrow, but when semi-natural grasslands are maintained through agriculture, sunlight is increased and a diverse ecosystem is created.
Farmland such as orchards, rice paddies, and tea plantations, as well as surrounding water bodies such as reservoirs and irrigation canals that are necessary for farmland, can also provide direct habitat, and farmland in winter, such as Osaki arable land, can also play an important role as a wintering ground for geese and other birds.
In Japan, the culture has been developed in such a way that it is easy to have an awareness of the connection between the mountains and the sea, as in the case of Satoyama and Satoumi.
The World Agricultural Heritage is a treasure of our rich culture and ecosystem, and a means to pass it on to the next generation.
*1 5 criteria for recognition: food and livelihood security, agricultural biodiversity, transmission of traditional knowledge, cultural and social values, landscape and seascape features 
https://www.maff.go.jp/j/nousin/kantai/giahs_1_1.html
---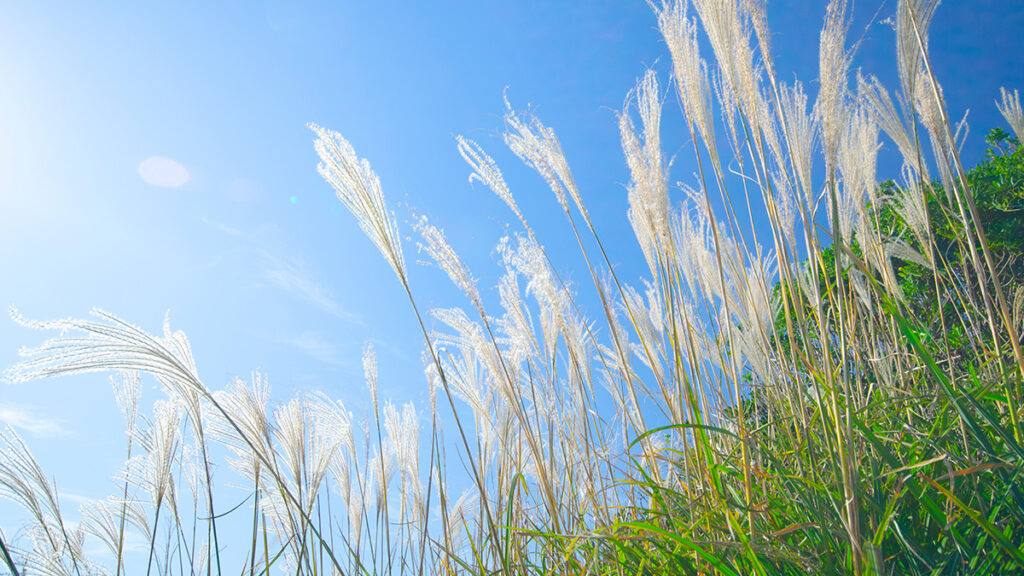 Characteristics and Biodiversity of Japanese Tea Plantations
We consider Japanese tea plantations to be one of the most important agricultural practices in such an important agricultural area.
Needless to say, "Japanese tea" is one of the "Japanese cultures" that we are proud of in the world. The unique geography and climate with many tea plantations and agricultural techniques have created a unique tea culture.
The "Shizuoka Tea Grassland Farming Method" in the area around Kakegawa, Shizuoka Prefecture, which is also a World Agricultural Heritage Site, is a traditional farming method that involves mowing mainly with silver grass and sasa plant, which has the effect of improving the quality of tea.
Mowing is a farming method in which grass is spread over the field, allowed to decompose, and then plowed into the soil as fertilizer to store nutrients necessary for crops, but the grass also acts as a habitat for insects.
Furthermore, the tea plantation and the mosaic of tea grassland mixed to secure the lawn for this mowing also create a great effect on biodiversity.
---
Current Situation and Challenges of Japanese Tea Production
However, the number of tea farmers is decreasing year by year due to a lack of successors caused by the aging population, climate change, changes in the consumer market, and the fact that tea fields are often on sloping land that is difficult to mechanize.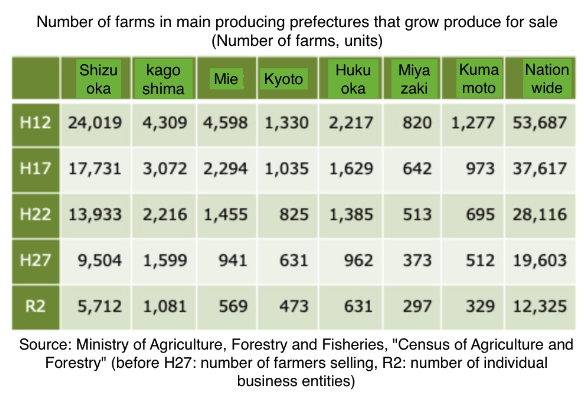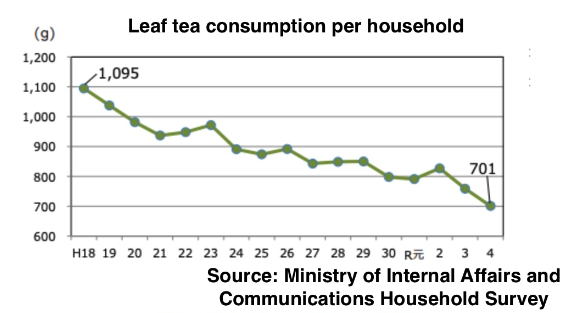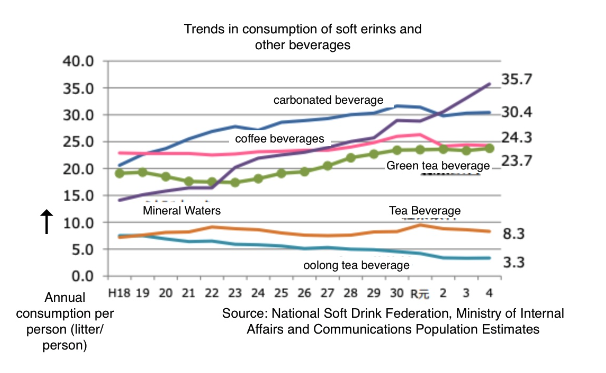 Tea consumption is declining. However, consumption of tea beverages is growing, and it cannot be said that this is a general decline in consumption.
Now that we can say that Japanese tea has a certain value and is still strongly rooted in the lives of Japanese people, we should reaffirm the appeal of tea and encourage its preservation.
Furthermore, due to the Japanese food boom in the U.S. and other countries, green tea exports have doubled in the past 10 years.
Imports of green tea for use in Japanese green tea beverages increased extremely for a time, but as the percentage of domestically produced green tea has increased, imports have decreased and now hover around 3-4 thousand tons.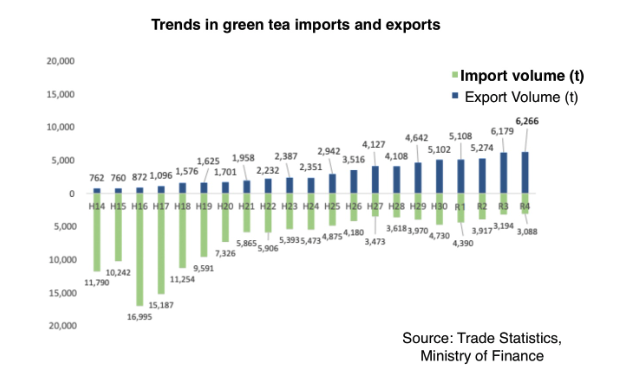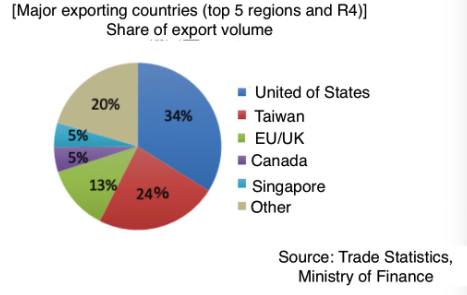 Japanese tea is a source of pride to the world.
Efforts to preserve tea plantations can simultaneously preserve biodiversity as well as sustainable local development.
In order to restore the tea plantations, it is also important to combine traditional knowledge with new technology to share our unique tea culture with the rest of the world.
Data Source:
Situation Concerning Tea – August 2023, Ministry of Agriculture, Forestry and Fisheries (PDF)
---
What we aim for with our "Endangered Tea" project
Among Japanese teas, there are some teas for which there are only a few producers left, and others that are in danger of extinction due to changes in the production environment.
We have started a project to pick up such teas and sell them as "endangered teas."
The tea ceremony is said to be one of the most useful means of training the five senses.
At our company, learning the tea ceremony is included in our benefits package. Knowing the content and meaning of the etiquette multiplies the enjoyment and value many times over, and has a positive impact on the business scene as well.
Having a deep knowledge of one's own culture is very valuable in international communication. Conversations that are culturally relevant and educated give a sense of dignity and intelligence, and can open up new topics of conversation with others, which can lead to trust.
It is a lost opportunity for Japanese people not to know about Japanese culture, which should be a source of pride to the world. In this age of rapid globalization, we hope that people will value knowledge of Japanese culture as much as they do knowledge of foreign cultures.
Furthermore, through endangered tea, we aim to learn about social issues in Japanese agriculture and work together to solve them.
Please click here to learn more about the project details.