2023/07/18
CLASS EARTH's product has been selected as a One-Star in the "Sustainable★Selection 2023."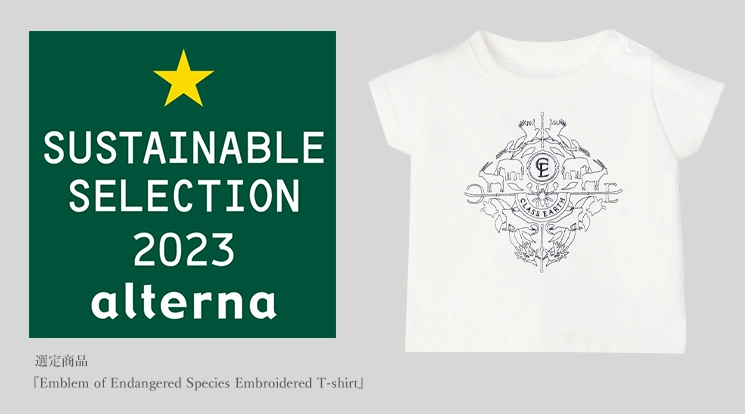 On July 18th, the "Sustainable★Selection 2023," organized by Alterna Co., Ltd., was announced, and Emblem of Endangered Species Embroidered T-shirt was selected as a One-Star.
List of One-Star and Two-Star selections for "Sustainable★Selection 2023":
https://www.alterna.co.jp/89441/

<Selected Products>
『Emblem of Endangered Species Embroidered T-shirt』

This T-shirt features the CLASS EARTH emblem, inspired by endangered species from around the world and embroidered using state-of-the-art AI embroidery technology. The beautiful emblem is embroidered on a large scale while minimizing the use of thread ends by dyeing a single thread during the embroidery process, reducing the typical stiffness associated with embroidery. Furthermore, from an environmental perspective, sewing the embroidered design while dyeing the thread helps reduce waste and suppress wastewater discharge.
The T-shirt's body is made from 100% organic cotton sourced from India, known for its durability due to its thick fibers. Each T-shirt is carefully sewn one by one at a sewing factory in Wakayama Prefecture, promising a production system that minimizes mass production and waste generation, which is a common problem in the apparel industry.
2% of the sales will be donated to the NATURE CONSERVATION SOCIETY OF JAPAN.
---

About "Sustainable★Selection"
This is a system where Alterna selects and recommends products/services developed based on sustainable principles and methods.
Selection Criteria:
Products/services that reflect sustainable and ethical design philosophies based on sustainable management, SDGs, decarbonization, circular economy, and reducing social inequalities. In particular, these sustainable products/services manage the entire process from production to distribution, contribute to reducing negative impacts on the environment, human rights, and health, and promote fair trade both domestically and internationally.
(Quoted from Alterna Co., Ltd.)